Repetitive Nerve Stimulation
Repetitive Nerve Stimulation
RNS is an electrodiagnostic test used to determine the neuromuscular junction (NMJ).
When you experience signs of muscular tiredness, RNS is performed. It is often used to identify neuromuscular junction (NMJ) diseases such as Myasthenia Gravis (MG) or Lambert-Eaton Myasthenic Syndrome (LEMS).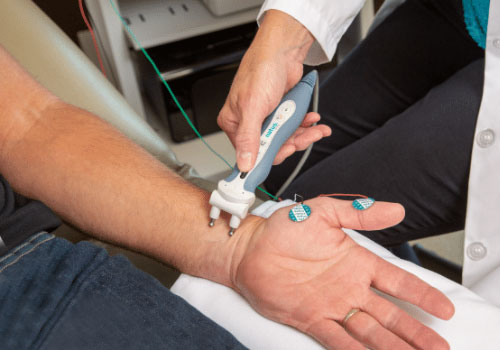 How is the RNS test conducted?
The response of your nerves to a series of repeated electrical stimuli will be recorded using a recording electrode placed on the tested muscle. In between the sequence of electrical stimulation, you may be requested to exercise the tested muscle for a few seconds to minutes. Depending on your symptoms and your doctor's request, many nerves and muscles may be examined, thus the test may take at least 45 minutes to an hour to complete.
How To Prepare For The RNS Test?
This examination requires no additional preparation. Wear loose-fitting clothes, though, so that your hands, shoulders, and neck may be examined easily. Apply no lotion, ointment, or cosmetics to your arms or face, and avoid wearing unnecessary jewellery such as bangles, wristbands, rings, and necklaces.
What are the possible risks associated with the RNS test?
This test is both safe and comfortable. Slight pain in the form of tingling and muscular twitching may be felt during the test, but these will subside quickly afterwards.
Get a consultation on RNS test with  Dr. Poornima Shah – Neurophysiologist call now 9820238329 | 9321366625